I must start this week by apologising for last weeks post. It was rushed, I'll admit. This week I am setting aside an appropriate amount of time to share my week with you, despite being incredibly busy with orders (but that's a good thing!)
I have managed to fit a huge array of things into the last few days, including the entirety of Sunday over in York, watching my son run around the National Railway Museum shouting "Look, it's got massive wheels!" and "Look, another big train!" and on the way home, "When are we going again?". Kids! As you can tell, he loved it, and that was enough to put smiles on the faces of myself and other half. Personally, I was gutted that the ice cream cafe was shut!!
On Tuesday afternoon, I was well enough to bake. I absolutely love baking and used to do it 1-2 times a week before the accident. It's one of the things I miss the most. I made cinnamon biscuits and I drew hearts on top in red icing. They didn't last very long at all! I didn't get a photo, but I will share the recipe, because you absolutely have to try them! They're from a children's baking book called Baking With Tiny Tots by Becky Johnson. It's a fantastic book and is easy to get hold of. My son was given it as a present this year, so we haven't done much together in it due to my illness, but once I am better it will become a regular thing to do together.
Ingredients
275g Self raising flour plus extra for dusting
100g Light brown sugar (I used light muscavado)
2 tablespoons Golden Syrup
1 egg
2 teaspoons cinnamon
75g soft butter
Instructions
Sift into a bowl the flour, mix with sugar and cinnamon.
Add butter and using fingers, turn into a crumb type mixture.
Add egg and Golden Syrup and mix thoroughly.
Allow the mixture to chill for one hour in the fridge.
Heat oven to 170 degrees centigrade gas 3 1/2 and roll out dough onto a well floured surface to around 1cm thick. Cut desired shapes out and place onto a baking sheet, lined with greaseproof paper. I just did circles and rolled the mixture into balls before flattening with my hand.
Bake for 10-15 minutes, or until just turning brown on top. Allow to cool and decorate with icing if you wish.
So simple and so scrummy!
Another craft I have got involved in this week, was brooch making. The brooches were felt strawberries. I made three and was inspired to do them as they were a freebie with Craftseller. They were the first freebie I have made and I decided to get a subscription to the magazine. At £1 for the first three issues, I would be mad not to! I am hunting around for more craft subscriptions. I tend to not make the things in the publications but the inspiration is fantastic.
I am on the lookout for a decent clasp purse pattern. I have the metal frame but have been putting off the making as it looks so darned complicated. I will pluck up the courage to try it this week, I promise!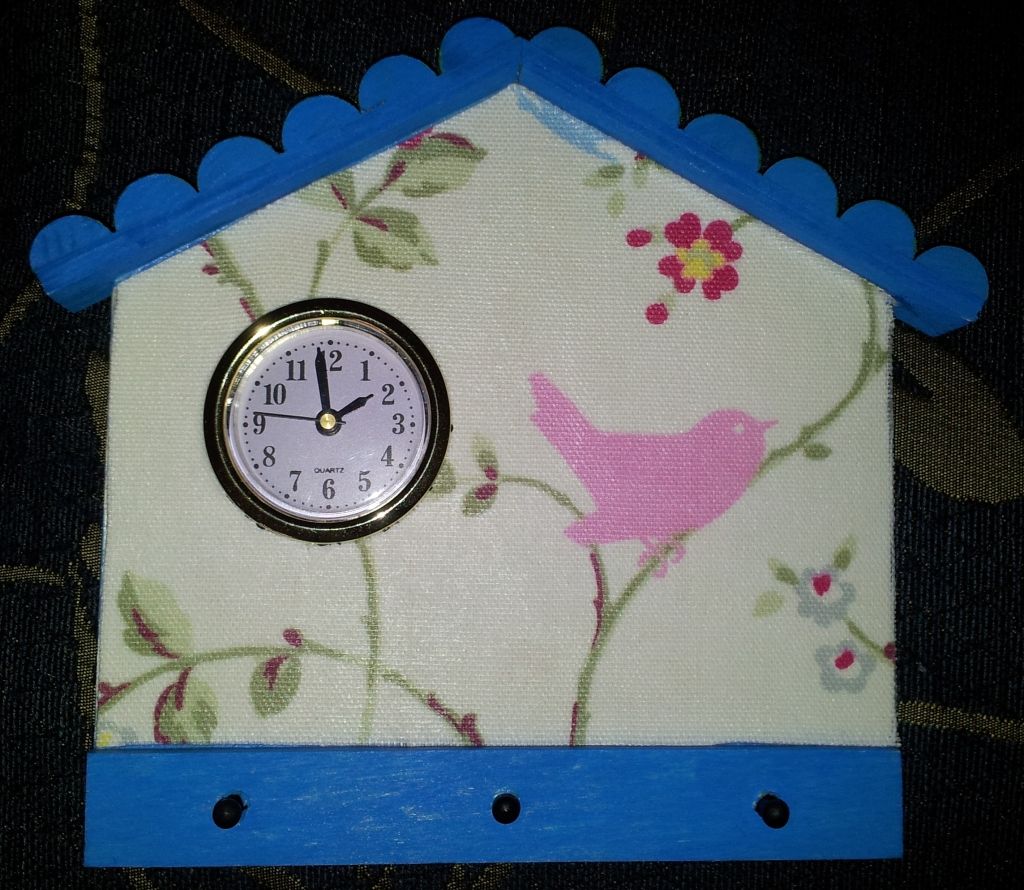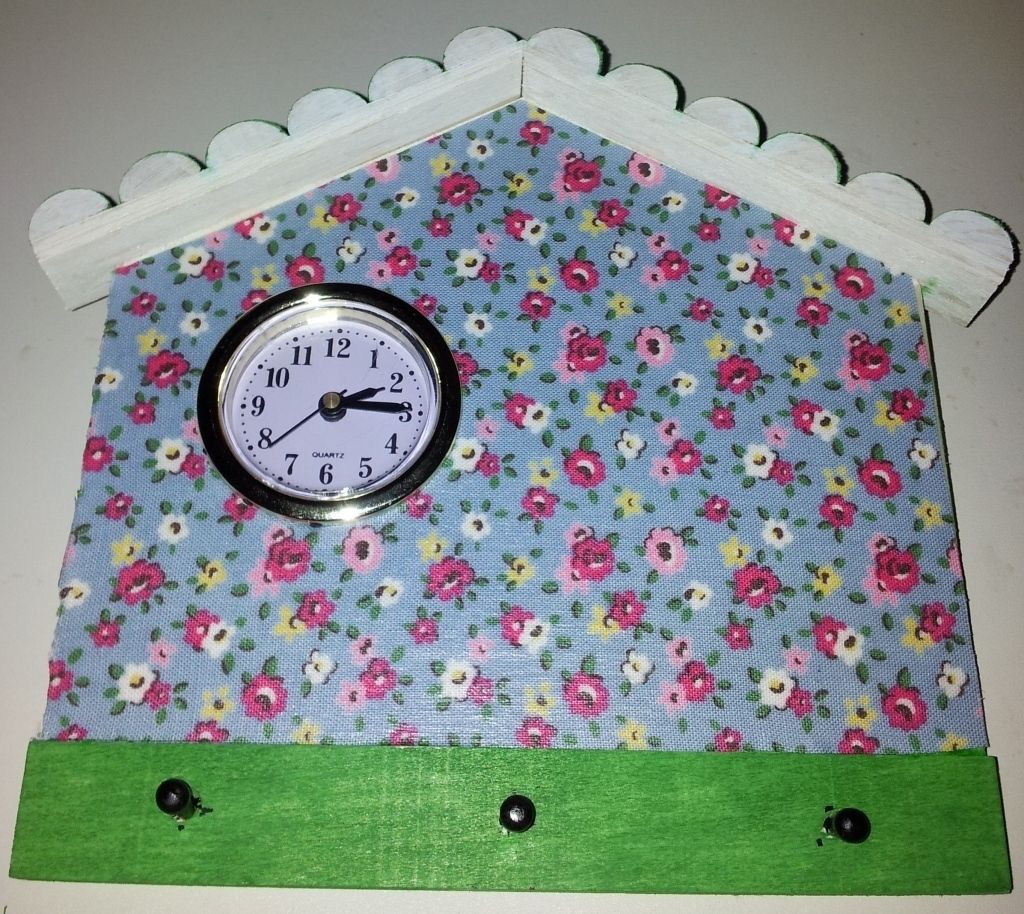 Last week I had two wooden birdhouse key holders and clocks arrive, just waiting for my mark to be put on them. So I did. Here they are, the left painted in blue and green, and finished with hardened Clarke and Clarke Bird Trail, the right one is whitewashed and green, finished with hardened Cath Kidston Hampton Rose. I think they look absolutely brilliant, but then I would! They are both available to buy at
http://www.simplydivinethings.co.uk/key-holders-100-c.asp
, but hurry, there's only one of each.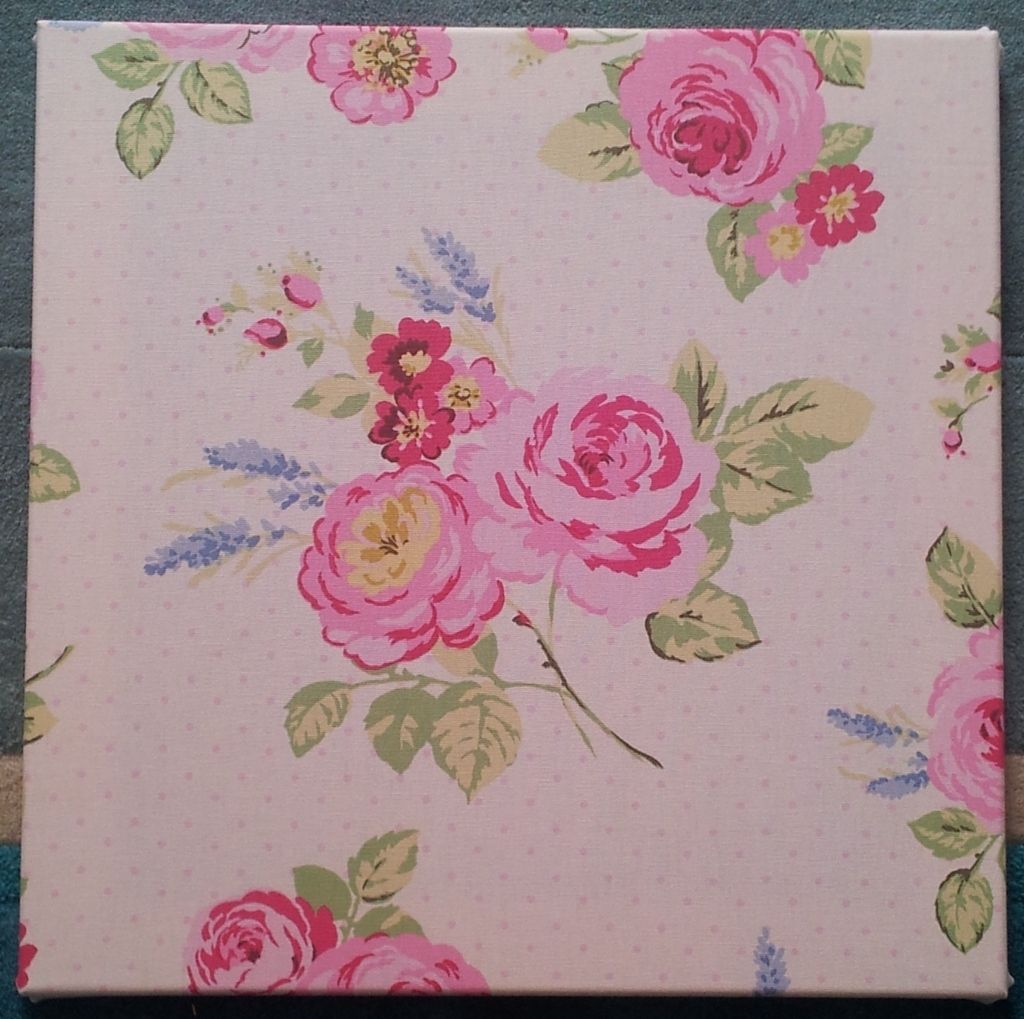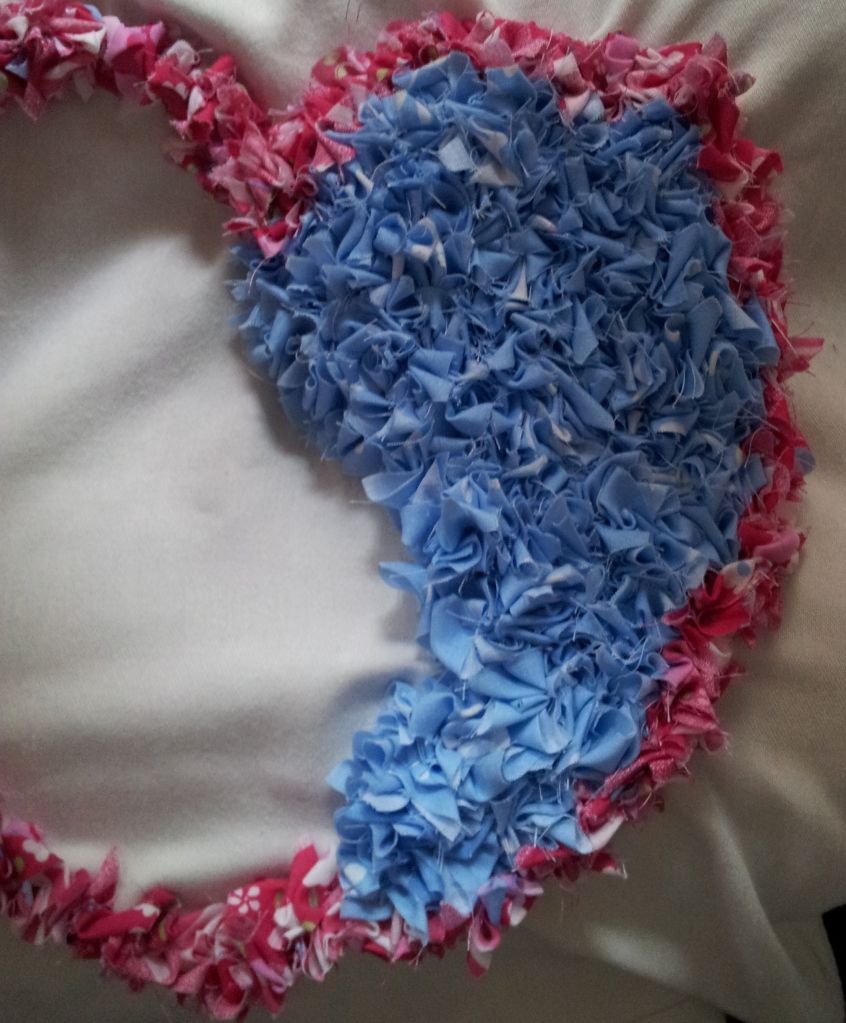 Other than some wall tile orders and various picture orders including one in the new Clarke and Clarke English Rose, I have not made much else. I have an ever expanding to do list still, which now includes more cushions in fabric I have found! I am still working on the bits and bobs cushion, which i coming along nicely but slowly. At this rate, the charge for time to make it will be too high to sell it! Or maybe that's an excuse to keep it. I do still have mountains of fabric I can't bear to get rid of, so I'm still making my way through it all, coming up with new makes.
www.simplydivinethings.co.uk has collected 21 votes towards becoming a Great Britain Great. Please help us build on that by casting your vote at http://www.thegreatexhibition2012.co.uk/greats/simply-divine-things and support British manufacturing. We're super proud of our Made in Great Britain stamp.