I want a Cath Kidston dress. I want one I want one I WANT ONE! More importantly I want one to wear to my mum's wedding on 13th July. There is one major factor though, I don't know if I am able to go to my mum's wedding because I start prolotherapy on the 4th and apparently I will be completely out of action for the best part of three weeks. That's how great my life is right now. SPD has not finished ruining my life just yet, it wants to ruin even more. I was supposed to be able to walk for the wedding, now not only am I not any better, but I might miss it all together. All I have is my crafts to keep me going, and Skins (because I have started watching every episode from the beginning).
This week I haven't had any motivation for much at all, but last week I got lots done. I have new cushions for sale, like these, that match a Next bedroom range.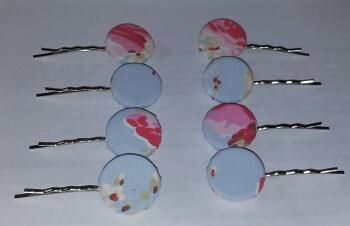 I've also been on a scrap usage frenzy, making hair clips and bracelets to my hearts content. First I made bobby pins from Cath Kidston's Classic Rose fabric wrapped around buttons.
Then I made lots of round flowers from fabrics such as Ikea Rosali and Clarke and Clarke Bird Trail, and finished them with a fabric covered button. They are so easy to make. All you do is cut four circles of fabric, fold them into quarters and stick them together with strong glue. Sew on the fabric covered button (guide for these is in my last post), and glue a strip on the back to slide a kirby grip in. I simply love these and they back a great hair day from a bad hair day. The lady who helps out with my cleaning has bought quite a few too!
Bracelets have been plaited using 3-4 long strips of co-ordinating pieces of fabric no thicker than 2cm, sewed at each end and either a snap fastener sewn on or the ends are sewn together. They're gorgeous bracelets.
I also made my first order for Clarke and Clarke Bird Trail ceramic coasters. How would you like these in your home? A snip at £19.95 and you will be one of very few to own them. Very shabby chic homeware indeed.
This week I have received two new Cath Kidston fabrics for pictures. This one is extremely rare and I have seen its cute elephant and giraffe print kicking around a few times. The picture is 16" x 16" and I only have one. Once it's gone, that's it. There will be no more.
This one is Birds and Roses. The picture is 10" x 16", and will also not be repeated.
I have also started on wall plaques and new magnet designs. My first is DREAM in blue Ikea Rosali, on a cream frame and ready to hang with jute string. Each letter is 11cm tall and it is 52cm long, so big for a plaque. It is all wooden and priced at only £14.95, is a bargain.
In the wooden letters, I have also done LOVE fridge magnets. These are finished in Cath Kidston Mini Spot in blue and red. They would be perfect on the fridge with our co-ordinating pan stand in the same room too. A great way to bring Kidston to your kitchen, without spending a fortue as the magnets are just £8 and the pan stand is £7.95. A good house warming gift too for a shabby chic fan.
As ever, all items advertised are available to buy at www.simplydivinethings.co.uk.
Today I came across this
http://howaboutorange.blogspot.co.uk/2009/10/make-gift-bow-from-magazine-page.html?showComment=1254517997847&m=1#c2874241455273344438
And I have to say I am not buying gift bows this Christmas because I will be making these. Not only do they look fantastic made from magazines, but imagine how they will look made from fabric! I may have to have a trial run next week to practice.
That's all this week folks. Catch ya later!
Kirsty x